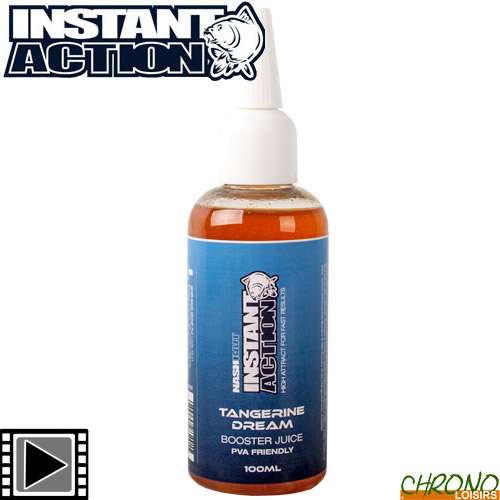 Nash bait revolutionized the world of baits with the HNV The Key boilies and its magnificent Cultured Hookbaits, Citruz and legendary Scopex Squid. Since constant pressure carp are only reacting to the highest quality baits, these formulas have become the most prominent of the moment, generating record after record on all waters in the UK and Europe. A range of fresh prepared seeds of the highest quality, exclusive pellet blends, and baits like Citruz pop-ups also help to change the world of carp baits into the future.
Booster Nash Instant Action Juice Tangerine Dream 100ml
Booster Nash Instant Action Juice Tangerine Dream 100ml
Produire les meilleurs appâts donne aux pêcheurs les meilleurs résultats. Cette croyance intangible a guidé les pas de Nashbait durant 30 ans et nous a conduit au succès.
Chaque paquet d'appâts est composé des ingrédients les plus frais et de la meilleure qualité, provenant des fournisseurs les plus reconnus et les plus réguliers. Notre fabrication, nos recherches et nos tests sont supervisés par Gary Bayes, véritable légende de la pêche à la carpe et détenteur de nombreux records. Cela vous assure que Nashbaits constitue le choix privilégié de ceux qui ne veulent que le meilleur du meilleur.
Nashbaits, à l'origine de multiples records en UK et en Europe, est à la pointe du marché, animé par la passion et l'engagement de vous fournir la gamme d'appâts la plus relevée du monde!
Booster Nash Instant Action Juice Tangerine Dream 100ml
Booster liquide rapide, pouvant s'utiliser avec du PVA, pour augmenter l'attraction des bouillettes, pellets, amorce et esches pour plus de touches et une mise en action plus rapide encore.
Les Boosters Instant Action Juices sont fabriqués avec les mêmes attractants que les bouillettes du même parfum, produisant une émanation continue de saveurs et d'arômes. C'est un produit utilisable toute l'année. Utilisez le, prenez des carpes!
Customers who bought this item also bought :