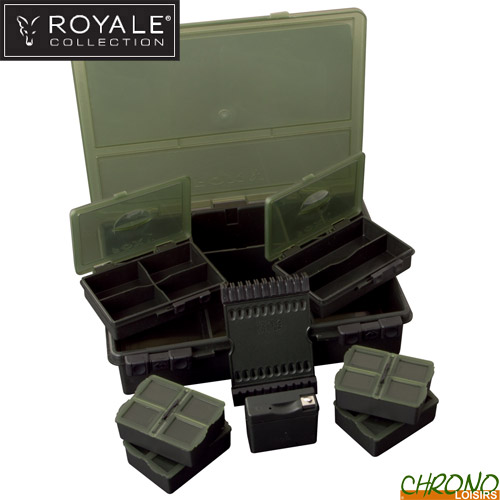 Fox is the largest distributor of specialized fishing tackle for carp. Who are the carp anglers who have never heard of products such as Swingers, FOX box systems, Microns. This is proof of a permanent desire for innovation and progress policy, both in design and in product development.
Boîte à Accessoires Fox Royale System Box Medium
10
€
00
Boîte à Accessoires Fox Royale System Box Medium
Bien que la gamme Royale soit le premier prix, elle emprunte en termes de fonctionnalité et de robustesse bon nombre des qualités de la gamme FX, et se révèle à la hauteur de bien des bagageries haut de gamme du marché. Les renforts sur tous les endroits sollicités, y compris fermetures, coutures de sangles, angles et boucles ; la fonctionnalité améliorée et le design ergonomique résultent en une gamme très complète de bagages capable de répondre à vos besoins en termes de stockage et de transport.

Boîte à Accessoires Fox Royale System Box Medium
Toutes les boîtes Fox Royale disposent d'un joint caoutchouc étanche courant sur le pourtour de leur couvercle, créant une barrière infranchissable contre la saleté et l'humidité.
Ces boîtes de pêche ingênieuses sont conçues pour recevoir tous les accessoires de montage en utilisant une série de petites boîtes et de dévidoirs Fox.
Couvercles transparents et incassables, charnières renforcées ainsi q'une fermeture sécurisée ainsi que des joints d'ètanchéité.
Une graduation métrique sur les couvercles facilitera tous vos montages. Les boîtes Royale System Fox avec les accessoires compatibles sont utilisés par les carpistes spécialistes de loisirs ou de compétition.
La boite Royale System Medium est livré complète avec les accessoires suivants:
1 x boite 2 compartiment System Box
1 x boite 4 compartiment System Box
4 x boite Flip Top 4 compartiment System Box
1 x plaque à bas de ligne System Rig Board
1 x dévidoir System Spool Dispenser
Dimensions : 25cm x 20.3cm x 5cm.
Customers who bought this item also bought :