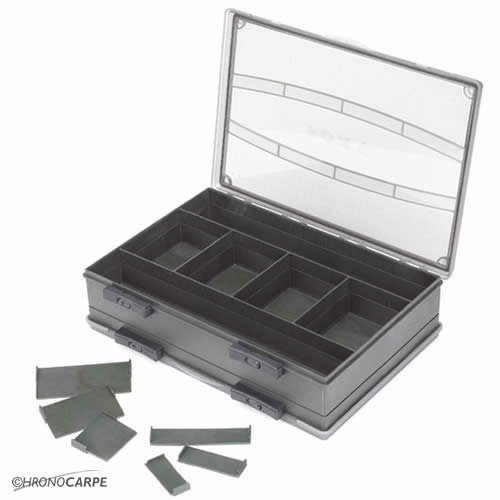 Fox is the largest distributor of specialized fishing tackle for carp. Who are the carp anglers who have never heard of products such as Swingers, FOX box systems, Microns. This is proof of a permanent desire for innovation and progress policy, both in design and in product development.
Boîte à Accessoires Fox F Box Large Double
10
€
00
Boîte à Accessoires Fox F Box Large Double
Lorsque la boîte originale Système Fox fut lancée voici maintenant 20 ans, il s'agissait de la première boîte de rangement spécifiquement étudié pour le pêcheur à la carpe. Au lieu de devoir s'adapter tant bien que mal des caisses à outils, les pêcheurs avaient enfin la possibilité d'organiser tout leur petit matériel de façon méthodique et accessible. Le système Fox devint rapidement un article indispensable pour des milliers d'entre nous.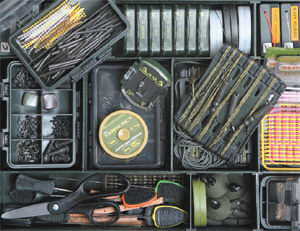 Boîte à Accessoires Fox Box Double Large Box
Modèle de grande taille, muni de 2 couvercles. La construction en plastique moulé donne une rigidité et une solidité à toute épreuve. Un joint étanche sur le pourtour du boîtier protège le matériel de l'humiditéet de la poussière. Les compartiments sont modulables grâce aux divideurs fournis.
Comprends:
4 partitions profondes larges

4 partitions profondes de taille moyenne

8 petites partitions profondes

4 partitions plates larges

4 partitions plates de taille moyenne

4 petites partitions plates
Dimensions : 350mm x 250mm x 90mm

Les boîtes système Fox double face ont un compartiment principal suffisament profond pour recevoir les boîtiers de bobines de tresse, ainsi qu'un compartiment plus plat permettant de ranger ciseaux, aiguilles à appâts et autres outils nécessaires à la confection de montages.



Un nouveau mécanisme de fermeture a été utilisé sur l'ensemble des boîtes Fox. Il est opéré à l'aide d'un simple bouton pressoir et permet de garder les couvercles fermés sans risque d'ouverture accidentelle pendant le transport.



Les boîtes Fox F sont équipées d'un nouveau système de séparations. Le périmètre de la plupart des partitions est équipé de rainures permettant d'insérer les diviseurs, créant ainsi une infinité de possibilités d'agencement.


Toutes les boîtes Fox disposent d'un joint caoutchouc étanche courant sur le pourtour de leur couvercle, créant une barrière infranchissable contre la saleté et l'humidité.

Customers who bought this item also bought :