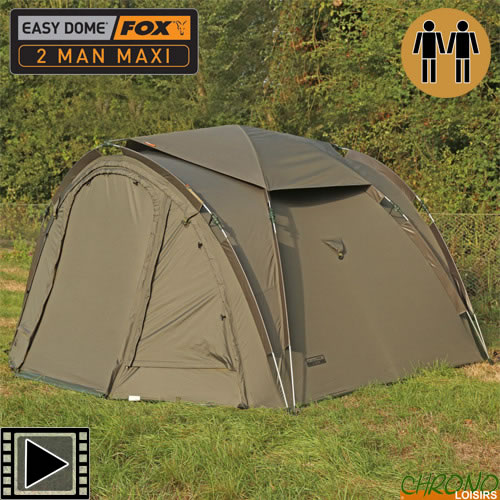 Fox is the largest distributor of specialized fishing tackle for carp. Who are the carp anglers who have never heard of products such as Swingers, FOX box systems, Microns. This is proof of a permanent desire for innovation and progress policy, both in design and in product development.
Biwy Fox Easy Dome Maxi 2 places (avec chambre intérieure)
110
€
00
Biwy Fox Easy Dome Maxi 2 places (avec chambre intérieure)
Ces dernières années les ingénieurs Fox et l'équipe de développement ont travaillé d'arrache-pied en collaboration avec nos consultants et les meilleurs spécialistes Européens pour concevoir les meilleurs biwys du marché. Nous sommes nombreux à être certains aujourd'hui que Fox a atteint cet objectif.
Ces nouveaux biwys débordent d'innovations techniques en faisant des produits pratiques, se déclinant dans une variété de concepts afin de s'adapter à tous les pêcheurs, ceux privilégiant la légèreté et ceux qui recherchent un confort maximum durant les longues sessions.
Que vous recherchiez juste un abri pour une journée, un abri léger et rapide pour des sessions éclairs d'une nuit ou une véritable maison avec tout le confort pour des sessions longues sur le continent, vous pouvez être sûr de trouver l'abri dont vous avez besoin.
Biwy Fox Easy Dome Maxi 2 places (avec chambre intérieure)
Le modèle Fox Easy Dome est sans conteste le biwy le plus populaire jamais créée grâce à sa maniabilité et sa fiabilité.
Décidé suite à une forte demande, de faire renaître nos célèbres Easy Dome en leurs apportant plusieurs innovations majeures tel que le matériau imperméable polyester 6000mm, les portes double voie, les fenêtres amovibles et la ventilation.
Le nouveau modèle Maxi 2 man est équipé des célèbres coudes de blocage Fox rapide Easy Dome permettant une mise en place rapide et une grande stabilité et bénéficie désormais du matériau haut de gamme 6000mm, le plus imperméable et résistant qui soit.
Les mâts utilisés sont fabriqués en aluminium aero-gradable plus robuste que le précédent alliage. Il est également équipé des nouvelles portes s'ouvrant de haut en bas ou de bas en haut et complètement amovibles.
La porte PVC est également amovible et remplaçable par un panneau moustiquaire. Le Easy Dome possède une chambre intérieure qui est équipée d'un tapis de sol fixe.
Toutefois, le tapis de sol Heavy Duty intégral (qui couvre la partie chambre et l'avancée) est vendu séparément.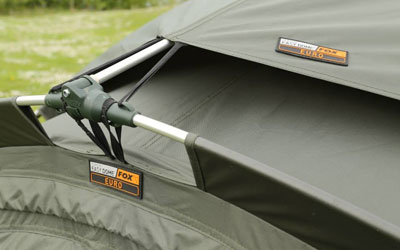 Nouveau concept d'armature avec un arceau supplémentaire permettant un arrière plat et plus de volume utile
Cet arceau supplémentaire augmente également la stabilité
Panneaux moustiquaires arrière pour une bonne ventilation
Tissu 100% polyester avec tête hydrostatique 6000mm
Façade avant entièrement amovible
Arceaux aluminium aérograde
Système unique Fox de coudes à blocage rapide
Panneaux avant latéraux en moustiquaire
Sangles velcro pour sécuriser les cannes
Chambre interne en moustiquaire amovible, qui possède son propre tapis de sol nouvelle génération, facile à plier et à nettoyer
Cordes d'ancrages fournies pour les sessions par temps fort
Montage facile et rapide
Fourni avec trois options de porte : panneau plein, moustiquaire ou PVC transparent
Toutes les portes ont une fermeture double voie pour ouverture en « porte de grange »
Fourni avec vrille et nouveau concept de sac de transport
Tapis de sol renforcé disponible séparément
Dimensions : 277cm x 248cm x 154cm - Poids : 15.4kg
Customers who bought this item also bought :