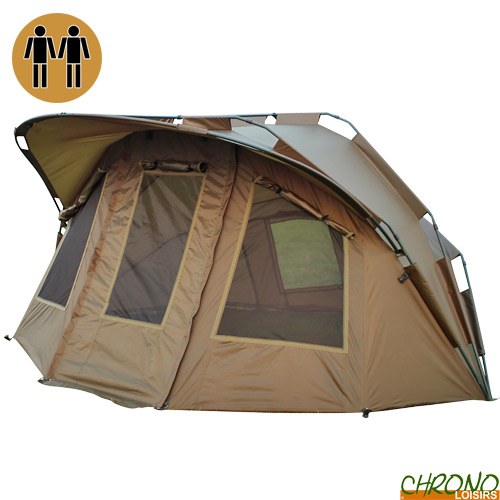 Founded in 1994, the Extra Carp brand was quickly recognized for the reliability and excellent quality of its products. This company ensures the growth of its range and its mission is to provide high quality products and accessories at the best quality / price ratio.
Biwy Extra Carp EXC Max 2 2 places
30
€
00
Biwy Extra Carp EXC Max 2 2 places
Biwy Extra Carp EXC Max 2 2 places
Le Max 2 Extra Carp est un biwy 2 places dont le volume intérieur, le niveau d'imperméabilité ainsi que l'encombrement réduit une fois plié sont impressionnants.
La façade avant peut être complètement ouverte afin de vous permettre d'apprécier la grande casquette, particulièrement en période estivale.
En cas d'intempéries, la porte et les fenêtres moustiquaires sont équipées de rabats pleins pour vous garantir une protection optimale.
Deux grandes fenêtres arrière viennent compléter le biwy pour une meilleure luminosité et surtout afin de créer un flux d'air, particulièrement appréciable en été ou lorsque la température commence à grimper.
La toile robuste et imperméable est réalisée avec un nylon 100% PU 210D qui possède une tête hydrostatique de 5000mm. La cadre réalisé en aluminium 16mm assure une stabilité remarquable au biwy, même par grand vent tout en conservant un poids contrôlé pour un transport aisé.
Coutures thermosoudées
Tête hydrostatique 5000mm
Livré avec sardines et sac de transport
Tapis de sol renforcé 100% PE avec attache Velcro
Réalisé dans une toile 100% PU 210D
Système de ventilation
Points de fixation renforcés
Dimensions plié : 21.5cm x 21.5cm x 104cm
Dimensions : 280cm x 310cm x 140cm – Poids : 12kg
Customers who bought this item also bought :