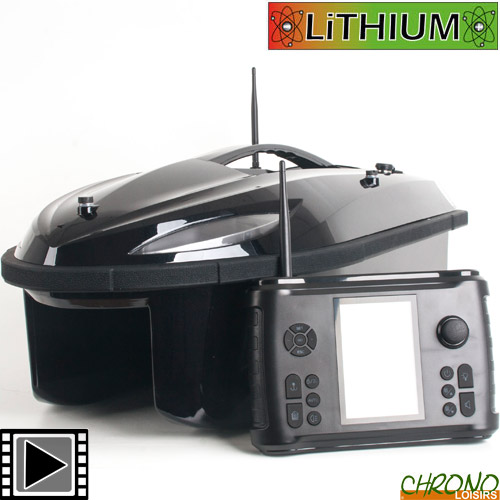 Inspired by current trends and the needs of modern carp anglers, Carp Design is a rising brand which aims to bring a new vision of carp fishing tackle.
Bateau Amorceur Carp Design Wave Breaker Lithium V2.0
180
€
00
Bateau Amorceur Carp Design Wave Breaker Lithium V2.0
Bateau Amorceur Carp Design Wave Breaker Lithium V2.0 (Le Brise Vague)
Nous sommes heureux de vous présenter le dernier né dans le monde du bateau amorceur !
Le Wave Breaker est un bateau qualitatif équipé de la nouvelle technologie digitale version 5.5.
Le nouveau Wave Breaker est remarquable de part sa conception, sa stabilité à toute épreuve et son design exclusif. Il est propulsé par des moteurs haute performance avec double hélices chacun qui garantissent une meilleure longévité du bateau. Et maintenant avec batterie lithium !
Pour vous permettre des déposes chirurgicales et des manœuvres d'une grande précision, le bateau est équipé de 2 moteurs à propulsion d'une puissance indépendante, facilitant ainsi la dépose de vos montages sur le spot que vous aurez choisi.
Afin d'amorcer avec tous types d'appâts (pellets, bouillettes, graines, etc...), le bateau dispose de deux trappes à appâts à ouvertures séparées. De même, il possède un système de largage de ligne à commande individuelle présent sur l'arrière du bateau qui garantira une dépose précise de vos montages.
Sa conception en catamaran et sa coque haute augmentent l'équilibrage et la stabilité du bateau et améliorent sa tenue dans la houle, lui permettant de naviguer avec plus d'aisance, même chargé à plein.
La télécommande 2.4Ghz est entièrement digitale et est équipée de la technologie "Duplex Two Wave" qui améliore encore les performances de la télécommande, en rapport aux télécommandes 2.4Ghz standard.
Son écran LCD intégré vous permet de contrôler en temps réel l'état du système du bateau. Ainsi vous pourrez vérifier le niveau de batteries, la direction, la profondeur et la position (pour les modèles avec échosondeur intégré et/ou GPS) et la pression atmosphérique grâce au baromètre intégré.
Portée d'environ 400m avec possibilité de changement de fréquence et calibrage sur la télécommande.
Le bateau est équipé de diodes haute visibilité que vous activez de la télécommande (console de télécommande lumineuse également).

Cette version 2.0 possède une télécommande dont l'écran est plus haut que sur le modèle précédant, vous permettant ainsi d'avoir une meilleure lisibilité de la typographie du fond.

Pont arrière illuminé
Caractéristiques techniques :
2 trappes à commande individuelle
Capacité : 2kg
Distance : 400m variable selon les conditions
Autonomie : environ 1h30 à pleine puissance
Vitesse 60m/min
Boussole et baromètre intégrés
Batterie Nimh rechargeable de télécommande (10h d'autonomie)
Batterie Lithium 11V / 5Amp (autonomie 1h30 à vitesse maximale)
Chargeur de batterie secteur
Dimensions : 63cm x 35cm x 25cm - Poids : 8.4kg avec batteries

Hélices protégées

Largue-ligne arrière haute qualité

Interrupteur étanche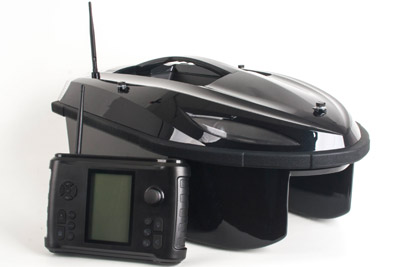 Customers who bought this item also bought :