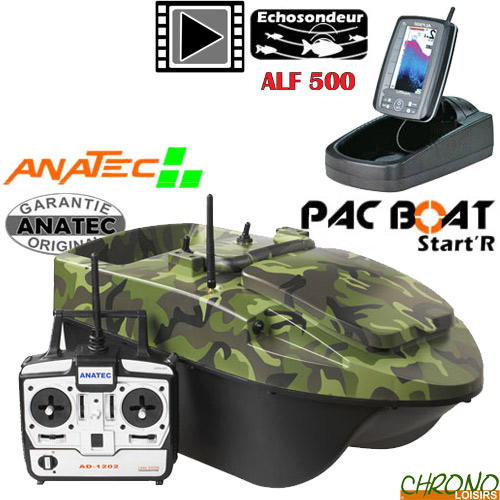 For the purchase of this item, discover your gift !
The Anatec brand is specialized in the manufacture of radio controlled starter boats for more than 20 years. Anatec is considered by the biggest names of "Specimen Hunting", as the indispensable ally of carp anglers. The French press considers the Anatec bait boats as the most efficient, reliable and robust on the market.
Bateau Amorceur Anatec Pac Boat Start'r Forest Camo ALF500
199
€
00
Bateau Amorceur Anatec Pac Boat Start'r Forest Camo ALF500
Bateau Amorceur Anatec Pac Boat Start'r Forest Camo ALF500
Bateau Amorceur Anatec Pac Boat Start'r Forest Camo
Doté d'un gabarit réduit et bénéficiant d'une étonnante simplicité d'utilisation, le PACBOAT est une version améliorée du PACBOAT.
Grâce à un pont plus haut, la ligne de flottaison a été augmentée ce qui améliore la flottabilité. Dans un même temps, la capacité du bac d'amorçage passe de 1 à 1.5kg.
Par rapport à ses frères (MONOCOQUE et CATAMARAN), le PAC BOAT profite de dimensions minimales et d'un poids restreint pour une grande facilité de transport et d'utilisation.
Il est conçu pour répondre à la demande croissante de certains utilisateurs, pour qui le bateau amorceur demeure indispensable, mais qui ne souhaitent pas pour autant s'encombrer d'un modèle pouvant gêner une approche plus « mobile » de leur pêche.
Le PAC BOAT START'R est une version économique du PAC BOAT . Certains éléments électroniques de marque GRAUPNER ont été remplacés par des composants standards. (Variateur de vitesse et servomoteur).
Egalement, la télécommande AD1202 n'est pas de marque GRAUPNER mais bénéficie cependant de la technologie 2.4 GHz, permettant une portée de transmission pouvant aller jusqu'à 250m, ce qui permet d'exclure tout risque de perte de contrôle.
Les fonctions sont strictement identiques.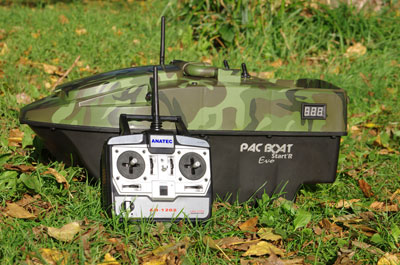 La conception minimaliste du PAC BOAT va à l'essentiel, pas de gadgets inutiles, tendre ses lignes et amorcer avec précision ses spots de pêche, voilà la fonction essentielle de ce bateau que les débutants en la matière n'auront aucun mal à prendre en main.
Il possède un contrôleur digital de tension afin de vérifier instantanément la tension de la batterie.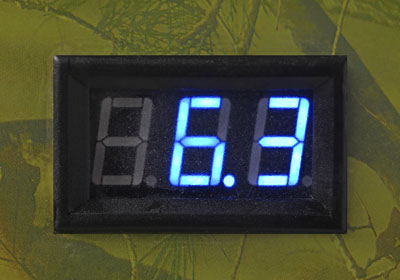 Coloris camou et non oak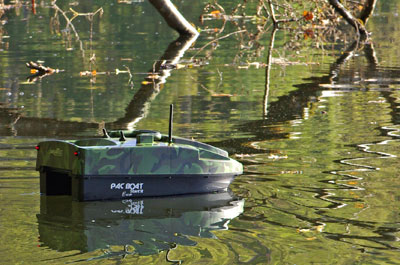 Le PAC BOAT fonctionne grâce à un moteur à hélice alimenté par 2 batteries au plomb de 6V 4.5 Ah. L'autonomie d'utilisation du bateau est d'environ 80 mn et sa vitesse maxi de 1.6 mètres / seconde.
La direction est assurée par un mécanisme de gouvernail.
Situé en position arrière, le bac d'amorçage du PACBOAT possède une capacité d'1.5 Kg. Ce bac permet le transport des amorces ainsi que de la ligne.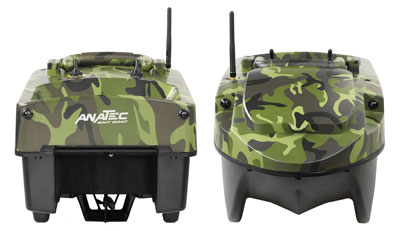 Livré complet avec :
2 Batteries 6V / 5Ah
1 Bombe de graisse
Chargeur fourni
Dimensions : 59 X 28 X 25 cm - Poids : 4.5 Kg (batteries comprises)
Disponible en coloris camouflage
Kit Echosondeur Bateau Amorceur Anatec ALF500 Couleur avec Sonde
L'ALF500 est un échosondeur par transmission sans fil utilisable sur tous les bateaux amorceurs de la gamme ANATEC.
Si vous avez opté pour un modèle de bateau équipé d'origine d'un écho sondeur ALF500, la notice (livrée avec l'échosondeur) vous permettra de vous familiariser avec les différentes fonctions.
Si vous avez choisi une version de bateau non équipée, notez qu'il est possible de monter vous-même le sondeur sur votre bateau grâce au kit comprenant les pièces nécessaires au montage.
Les éléments du sondeur sont les suivants :
Un Boitier de réception (écran) autonome avec antenne.
Un boitier de transmission électronique (émetteur).
Un interrupteur de mise sous tension pour activer ou désactiver le sondeur.
Un bloc d'alimentation
Une antenne émettrice (sur le bateau).
Une sonde avec joint et écrou de serrage.
Un adaptateur sonde caoutchouc orange (pour Catamaran et Maxboat uniquement).
Un velcro pour fixer l'émetteur sur certains bateaux.
Une rallonge d'antenne (pour Pacboat et Maxboat uniquement)
Caractéristiques techniques du sondeur ALF500 :
Taille écran totale: 153 X 110 X 44 mm
Taille de l'écran LCD 4.3'' : 97 X 57 mm
Définition écran: 480 X 272 pixels
Plage de fonctionnement jusqu'à 30 mètres de profondeur
Distance de transmission maxi : 300 mètres
Plage de fonctionnement température : De -10°C à + 50°C
Angle de sonde : 60°
1) Touche power/Exit
2) Touche Entrée
3) Touche menu
4) Touches de navigation dans le menu
5) Indication de profondeur
6) Indication de température
7) Force du signal de réception
8) Icône de poisson
9) Indication de profondeur de l'écho
10) Tracé du fond
11) Echelle de profondeur
12) Niveau de batterie
13) Antenne démontable
Le bateau est livré avec un kit écho sondeur qui sera à monter par vos soins. Le montage de la sonde sur le bateau ne nécessite pas de percer la coque du bateau grâce à la présence d'une fausse sonde pré-montée sur la coque.
| Quantity | Ref | Name | + |
| --- | --- | --- | --- |
| 1 x | 213263 | Bateau Amorceur Anatec Pac Boat Start'r Forest Camo | |
| 1 x | 213313 | Kit Echosondeur Bateau Amorceur Anatec ALF500 Couleur avec Sonde | |
Customers who bought this item also bought :