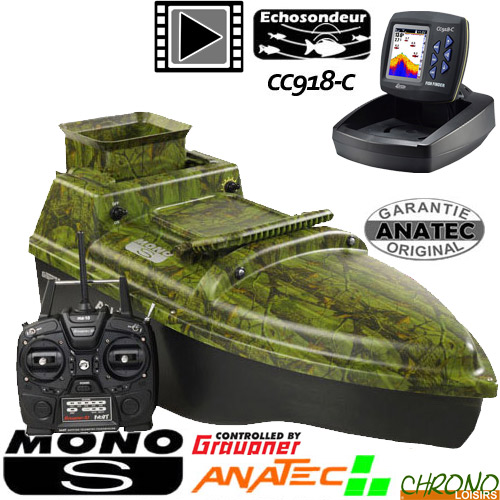 For the purchase of this item, discover your gift !
The Anatec brand is specialized in the manufacture of radio controlled starter boats for more than 20 years. Anatec is considered by the biggest names of "Specimen Hunting", as the indispensable ally of carp anglers. The French press considers the Anatec bait boats as the most efficient, reliable and robust on the market.
Bateau Amorceur Anatec Monocoque S Camou Oak MZ10 Echo CC918-C
259
€
00
Bateau Amorceur Anatec Monocoque S Camou Oak MZ10 Echo CC918-C
Bateau Amorceur Anatec Monocoque S Camou Oak MZ10 Echo CC918 Couleur
Bateau Amorceur Anatec Monocoque S Camou Oak MZ10
Le MONOCOQUE est le best-seller de la gamme ANATEC. Un compromis idéal pour pratiquer sa pêche dans les meilleures conditions possibles. Son faible encombrement facilite sa mise à l'eau même lorsque le terrain est accidenté.
Par ailleurs sa conduite ainsi que l'apprentissage de ses différentes fonctions sont très aisés et accessibles même aux débutants.
Il bénéficie également d'une très bonne flottabilité et peut être utilisé même lorsque la surface de l'eau est agitée.
Equipé comme tous les bateaux ANATEC de composants électroniques du fabriquant Allemand GRAUPNER ainsi que d'une nouvelle télécommande MZ10 du même fabriquant. Le MONOCOQUE respecte la charte de qualité et fiabilité commune à tous ses bateaux.
Le MONOCOQUE fonctionne grâce à un moteur à hélice alimenté par une batterie au plomb de 6V 12 Ah. L'autonomie d'utilisation du bateau est d'environ 90 mn et sa vitesse maxi de 1.3 m / seconde.
Par rapport à la version précédente, le MONOCOQUE S 2015 possède un contrôleur digital de tension afin de vérifier instantanément la tension de la batterie.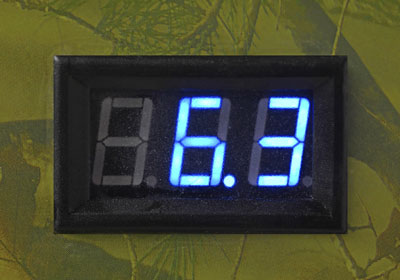 La direction est assurée par un mécanisme de gouvernail.
Situé en position arrière, le bac d'amorçage du MONOCOQUE possède une capacité d'1 kilo. Ce bac permet le transport des amorces ainsi que de la ligne.
Le contrôle du bateau et de ses fonctions se fait grâce à la télécommande GRAUPNER MZ10. Cette dernière bénéficie de la nouvelle technologie HoTT 2.4 GHz qui permet, en outre, de solutionner les problèmes d'interférences malencontreuses et d'augmenter la portée de transmission (environ 250m). Cette technologie a également l'avantage de ne plus nécessiter d'antenne sur le bateau.
L'alimentation de la télécommande MZ10 est assurée par 4 piles LR6 AA
Pour faciliter le repérage du bateau sur l'eau de nuit ou par temps sombre, le MONOCOQUE est pourvu de 4 diodes lumineuses ultra puissantes (2 blanches à l'avant et 2 rouges à l'arrière).
Pour une description détaillée relative à la mise en service, au mode d'emploi et aux conditions/précautions d'utilisation du MONOCOQUE il convient de se reporter au manuel d'utilisation joint avec le bateau.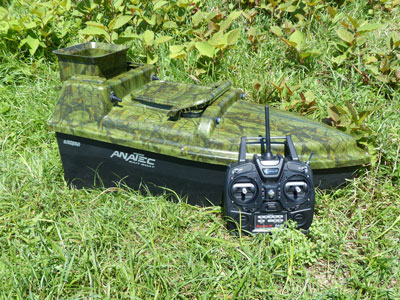 Livré complet avec :
1 Batterie 6V / 12Ah
1 Bombe de graisse
Chargeur fourni
Sac de transport
Dimensions : 75 X 35 X 36 cm - Poids : 6 Kg (batterie comprise)
Kit Echosondeur Bateau Amorceur Ccarp Lucky CC918 Couleur
Compatible avec la plupart des bateaux amorceurs du marché (Anatec, Faith, Anaconda, Skarp, Quad Bait Boat, etc...) grâce à la forme de sa sonde et aux deux caoutchouc fournis, le Ccarp Lucky CC918-C vous permettra de visualiser la topographie du fond (profondeur, relief, température de l'eau, etc...) ainsi que les poissons qui pourraient se trouver dans le cône de détection de la sonde.
Il est doté d'un écran MVA-TFT LCD de 60mmx 85mm qui permet une interprétation aisée de l'image grâce à ces 35536 couleurs.
Facile à installer, son menu intuitif vous garantira une prise en main rapide et son système d'identification des poissons « Fish ID » avec indication de la profondeur de chaque poisson vous donnera une idée précise de ce qui se passe sous l'eau.
Écran MVA-TFT LCD 35536 couleurs
Taille de l'écran : 60mm x 85mm
Puissance de sortie (RMS) : 100W
Puissance de sortie (de crête à crête) : 800W
Fréquence de la sonde : 125 kHz
Couverture du faisceau de la sonde : 90 degrés à 125 kHz
Unités de profondeur : mètres / pieds
Profondeur maxi : 40m / 135feet
Fréquence de fonctionnement sans fil : jusqu'à 300m/980 pieds (variable selon environnement)
Séparation de cible : 5cm / 2.5 pouces
Fonctionne en eau douce et en eau salée
Antenne télescopique sur le boîtier de l'écran
Capteur de température : intégré dans la sonde
Température de fonctionnement : de -10°C à +50°C
Alimentation de l'écran : 8 piles AA ou batterie 12V (non fournies)
Alimentation de l'émetteur : 8 piles AA ou batterie 12V (non fournies)
Écran du récepteur orientable et rabattable pour un transport aisé
Illustration des poissons par icône (3 tailles différentes)
Alarme poisson
Fréquence d'émission de l'émetteur : 433.93 mHz
Mémoire : conservation des réglages même lorsque l'appareil est éteint
Menu 20 langues : Français, Anglais, Polonais, Allemand, Russe, etc...
| Quantity | Ref | Name | + |
| --- | --- | --- | --- |
| 1 x | 213452 | Kit Echosondeur Bateau Amorceur Ccarp Lucky CC918 Couleur | |
| 1 x | 213265 | Bateau Amorceur Anatec Monocoque S Camou Oak MZ10 | |
Customers who bought this item also bought :