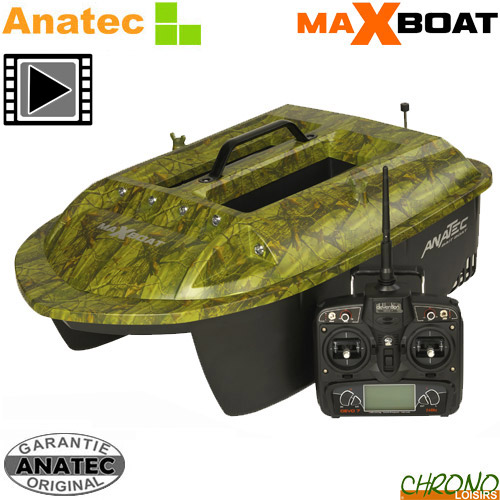 The Anatec brand is specialized in the manufacture of radio controlled starter boats for more than 20 years. Anatec is considered by the biggest names of "Specimen Hunting", as the indispensable ally of carp anglers. The French press considers the Anatec bait boats as the most efficient, reliable and robust on the market.
BATEAU AMORCEUR ANATEC MAXBOAT OAK DEVO7 LITHIUM
200
€
00
BATEAU AMORCEUR ANATEC MAXBOAT OAK DEVO7 LITHIUM
Bateau Amorceur Anatec Maxboat OAK Devo7 Lithium

Tous les bateaux Anatec sont livrés avec les batteries chargées.
Le Maxboat est un bateau de type catamaran avec une forme de coque qui lui assure une parfaite flottaison et une stabilité à toute épreuve même dans les conditions extrêmes (vent et vagues).
Il est muni de 2 moteurs permettant de naviguer à plus de 7 km/h à pleine charge. Le contrôle de ces moteurs se fait indépendamment l'un de l'autre ce qui permet de diriger le bateau.
Cette particularité assure une maniabilité parfaite du Maxboat et lui confère la capacité de tourner sur place. C'est un atout majeur lorsque la dépose des lignes doit être très précise (en bordure ou sous des frondaisons).
Grosse nouveauté pour ce bateau, il est équipé de 2 batteries lithium 7.4V 12000 mAh qui lui confèrent une meilleure autonomie (90 minutes). Le MAXBOAT est livré avec la télécommande Devention DEVO7 qui bénéficie de la technologie 2,4 GHz.
Cette nouvelle technologie est le nec plus ultra en matière de télécommande, elle permet de solutionner les problèmes d'interférences malencontreuses qui provoquent l'ouverture de la trappe ou le largage des lignes au mauvais moment.
Egalement, lorsque plusieurs utilisateurs sont à portée, il n'est plus nécessaire d'effectuer un changement de quartz pour régler les fréquences radio. L'attribution des différents canaux se fait automatiquement.
Enfin cette nouvelle technologie ne nécessite plus d'antenne sur le bateau, ce qui facilite grandement l'accès sous les branches basses. Grâce à cette nouvelle télécommande, la portée de transmission peut aller jusqu'à 250m, ce qui permet d'exclure tout risque de perte de contrôle.
Pour sa protection, la télécommande est accompagnée d'une housse en plastique transparent qui permet son utilisation en cas de pluie. Il est important de ne jamais utiliser la télécommande sous la pluie sans cette protection.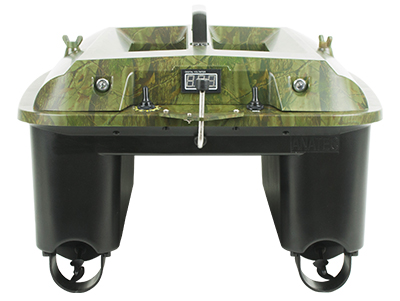 Les équipements (varios et servos) ont été développés spécialement pour Anatec et bénéficient d'une bien meilleure fiabilité par rapport aux équipements standards.
Le Maxboat possède un bac d'amorçage (divisé en 2 compartiments) placé en position centrale ce qui confère au bateau une excellente stabilité même chargé.
La télécommande permet une ouverture progressive des trappes ce qui autorise un arrosage de la zone de pêche. Les 2 trappes peuvent s'ouvrir indépendamment ce qui permet des amorçages précis et ciblés.
Le bac d'amorçage, en acier inoxydable peut contenir jusqu'à 5kg d'appâts (2 x 2.5kg) et peut être utilisé pour transporter n'importe quel type d'amorce (bouillettes, graines, pellets, farines).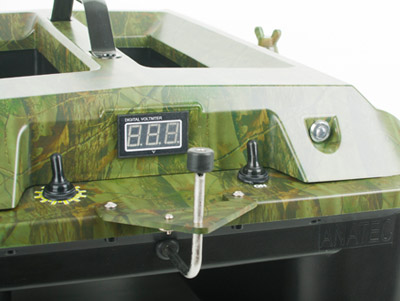 Le Maxboat est également pourvu d'un lâche ligne arrière qui facilite l'installation du montage sur le bateau et permet une descente plus rectiligne du montage au fond de l'eau, minimisant ainsi les risques d'emmêlements.
Pour une utilisation nocturne ou par mauvais temps, le Maxboat est équipé de 6 diodes ultra puissantes blanches à l'avant et de 2 diodes rouges à l'arrière permettant de repérer la position du bateau, même à très grande distance.
Le Maxboat est également équipé d'un contrôleur digital de tension.
Dimensions : 70cm x 46cm x 33cm - Poids : 10kg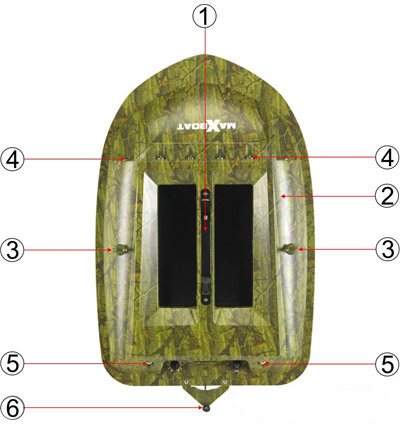 1) Poignée de transport
2) Capot amovible
3) Fixation du capot : Permet de maintenir le capot en place ou de l'ôter afin d'intervenir sur les éléments internes de l'amorceur
4) LED de position avant : 6 LED blanches permettent de visualiser le bateau de nuit ou à longue distance
5) LED de position arrière : 2 LED rouges permettent de visualiser le bateau de nuit ou à longue distance
6) Lâche ligne arrière : Le lâche ligne arrière permet le transport de 1 ligne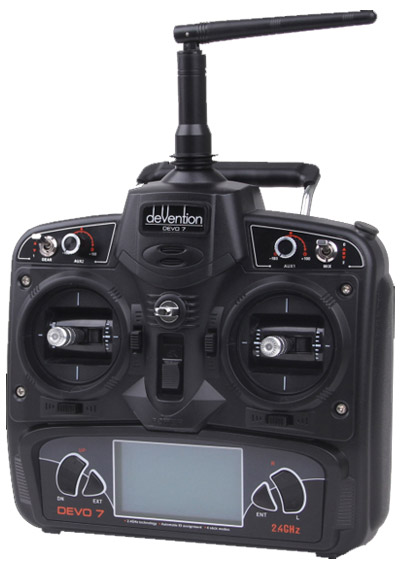 Télécommande haut de gamme Devention DEVO7.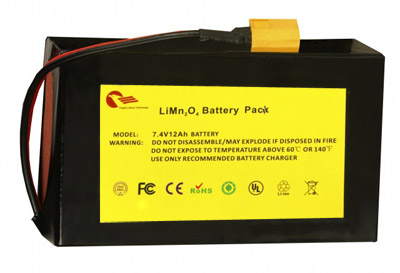 Batterie Lithium 7.4V 12000mAh pour une meilleure autonomie.
Customers who bought this item also bought :