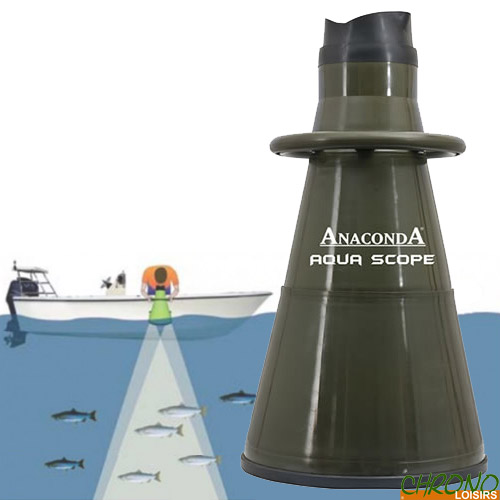 Trademark recognized for many years in Germany for its reliability, Anaconda has for constant objective to develop technical and robust products by proposing the best quality/price ratio possible.
Aqua Scope Anaconda
10
€
00
Aqua Scope Anaconda
Aqua Scope Anaconda
Quel carpiste n'a jamais rêvé pas de voir l'aire d'alimentation de son poisson favorie ? Avec l'Aqua Scope Anaconda, ce rêve devient réalité.
Cest l'aide visuelle ultime pour identifier la nature du fond à une profondeur d'environ 6m (lorsque la turbidité de l'eau est faible).
Les spots que vous avez trouvés avec l'échosondeur peuvent ainsi être observés et les zones d'alimentation de la carpe peuvent ainsi être identifiées. Le placement de votre montage et la stratégie d'amorçage à mettre en place devient alors un jeu d'enfant !
Grace à l'Aqua Scope, vous pourrez vérifier à tout moment l'état de votre spot afin de savoir sil vous avez besoin de remettre de l'amorce ou si un ou plusieurs poissons sont vénus visiter votre spot.
Il peut être utilisé comme une paire de lunettes de plongée et donne au pêcheur des idées et une expérience inimaginables pour choisir le bon endroit où placer son montage.
Un ustensile ingénieux et un must absolu pour tous les chasseurs de spécimens.
Hauteur : 63cm
Champ de vision : 12cm
Spectre : 32cm
Démontable en 3 parties
Customers who bought this item also bought :