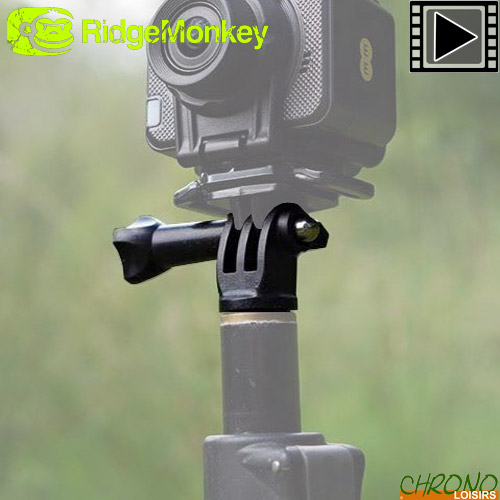 This rising brand continues to surprise by the originality of the products it offers. Its goal is to offer a range designed to provide modern carp anglers with innovative solutions to improve their daily life at the water's edge.
ADAPTATEUR RIDGEMONKEY POUR ACTION CAMERA SUR PIQUE
3
€
00
ADAPTATEUR RIDGEMONKEY POUR ACTION CAMERA SUR PIQUE
C'est pour nous un grand plaisir d'annoncer la sortie d'une nouvelle gamme d'adaptateurs, tous conçus et construits à partir de zéro pour espérer rendre votre prochaine session juste un peu moins frustrante...
Adaptateur RidgeMonkey pour Action Camera sur Pique
Conçu pour s'adapter à des caméras d'action qui disposent du point de montage à deux pans classique, l'adaptateur Camera pour banksticks se visse dans n'importe quel pas de vis standard, mât tempête, buzzer bar, manche d'épuisette ou similaire.
Fini les jours d'assemblage de deux ou trois adaptateurs différents pour le rendre apte, la conception d'une seule pièce fournit à la fois la sécurité et l'ajustement.
Doté d'un écrou de serrage et d'un boulon de maintien inclus, cet adaptateur est également compatible avec tous les produits de marque Ridge onkey "Action Camera Adapter fitment".
Customers who bought this item also bought :